Featured Item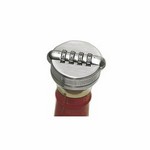 Solid Stainless Steel Combo Liquor/Wine ...
Perfect for securing premium wines and spirits. Locks up a bottle so that only the combination holder can reopen it. Instructions for using and changing the combo are included. 2 3/4" H x 2" Diameter
$16.59 - $17.41
We're concerned about image and our clients thank us for it!
Since 1978 we've been providing Fortune 500 companies and small businesses with reliable service and a wealth of promotional product knowledge. Clients choose Galaxy Group for our creativity, attention to detail and unsurpassed customer service. We are dedicated to making the process of purchasing promotional items an effortless and enjoyable experience. After all, promotional products should be fun!
Below are just a few applications for promotional giveaways. Promotional products can be utilized by virtually any industry. Not all of our 800,000 products are featured on our website, so please contact us for ideas and make your next promotion a success!
Call us at (888) 442-8443.